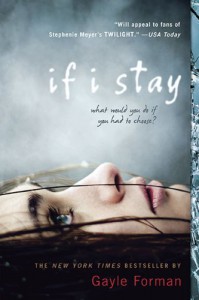 Check this review out on
our blog
!
This book is truly one of the most saddest books that I have ever read. The book starts off with a snow day in Oregon, which rarely ever happens, so Mia, her brother, Ted, and her dad who is a teacher get off from school and her mom calls in sick for work and the whole family go on car ride into Portland to visit some friends of the family. Mia's musician boyfriend, Adam, is also in Portland playing a gig for his band, so Mia can't wait to see him. Then a truck hits them. This was all just a terrible terrible accident because the trucker drive was not drunk or under any influence, the crash just happened.
Mia sees her parents die and her body being brought to the hospital- Yup, she's seeing her body being brought somewhere. Mia is having an out of body experience. She is still alive, but her body is in critical condition. Mia sees everything that is going on, from her whole family in the waiting room waiting to her best friend's mom crying to her best friend and her boyfriend staging a distraction to get Adam, Mia's boyfriend, in to see Mia. While all of this is going on, Mia doesn't know what happened to her little brother, if he's ok or not or if she will make it. Then her grandfather tells Mia that it is ultimately her choice whether she wants to live or move on and be with her family.
This book was is just too amazing for words! The book goes back and forth between the present time and flash backs of Adam and Mia, flashbacks of Mia and her BFF, Kim, and flashbacks of Mia and her family. I loved Mia's family. Her parents were a bit on the younger side when they had Mia, but they stepped up and became adults to raise Mia, but they didn't sacrifice their punk-rockiness. Mia's parents are the "cool parents" that all the kids want and they were supportive of whatever their daughter wants to do, like play the cello.
Her parents are punk-rock, but Mia is a classical music girl, in fact she plays the cello and loves Yo-Yo Ma. But at times, she feels like that's what makes her different and separate from the rest of her family, that and everyone has blond hair and blue eyes while she has brown hair and brown eyes. Sometimes Mia wishes she could've taken up the drums instead of the cello, but when she tried to quit cello, she just went right back to it. Mia has a special connection with her music and her cello and she realizes that her parents and Adam also have that connection with music and that is what brings them all together. This was realized after many flashbacks, but it is better that way because Mia goes through that journey and the readers get to see her do that. I feel like a lot of people can connect with Mia on this because everyone at some point feels like they don't quite fit in somewhere, whether it's with your family or in school.
Mia is also not your typical teenage girl. She only has one friend, Kim, and she is shy and she dresses and acts adult-like. She was also insecure about why Adam wanted to date her when he could have a much cooler girlfriend. But despite all of that, I was strangely able to relate to her and I think that many other people can relate to her as well.
Every single character in this book was amazing! I don't even know how to describe it, but every character was just...awesome!
If I Stay is everything from sad to funny to happy to inspirational, but mostly it was sad. If this book was ever made into a movie, it would be one of those really awesome movies teenage girls will watch and cry over, sad movies like The Notebook or Titanic. But this book was definitely a five out of five!
Jenny @
YA Novelties